Title
Panther and crocodile, 1883-1895?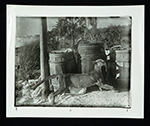 Item Details
Creator
Munroe, Ralph, 1851-1933.
Descriptive Information
The Florida panther was shot either by Little Tiger in 1891 near Coconut Grove, or by Mr. Richards near the Punch Bowl (freshwater spring, Miami), January 17, 1895. Ralph Munroe shot the 14 ft., 7 in. crocodile at Arch Creek, the winter of 1883-84. He sent the skin to the American Museum of Natural History (New York), where it was placed on display.; (Funding) Electronic reproduction. Miami, Fla. : Reclaiming the Everglades, c2000. Mode of access: World Wide Web. System requirements: Internet connectivity; Web browser software. Digitized from photographs at the Historical Museum of Southern Florida, Miami, Florida.
Physical Descriptions
Medium
2 photos. : black and white.
Contributing Institutions
Hosted By
Florida International University
Rights
No known restrictions.
< Go Back