Title
Photographs of plants approximately 1913-1934 / collected and captioned by Gifford.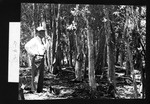 Item Details
Creator
Gifford, John Clayton, 1870-1949.
Descriptive Information
Gifford introduced the cajupet melaleuca to Florida in 1906, when he planted seeds from Cuba at Davie (The tree is native to Australia). Melaleucas were intended to help reclaim lands by absorbing water and drying wetlands.
Physical Descriptions
Medium
9 photos. on 7 sheets : black and white.
Contributing Institutions
Hosted By
Florida International University
Rights
No known restrictions.
< Go Back