Title
Assessment of natural resource conditions in and adjacent to Biscayne National Park. Natural Resource Report NPS/BISC/NRR—2012/598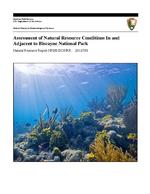 Item Details
Creator
Peter Wayne Harlem; Joseph N. Boyer; Henry O. Briceño; James W. Fourqurean; Piero R. Gardinali; Rudolph Jaffé; John F. Meeder; Michael S. Ross
Descriptive Information
(Preferred Citation) Harlem, P. W., J. N. Boyer, H. O. Briceño, J.W. Fourqurean, P. R. Gardinali, R. Jaffé, J. F.Meeder and M. S. Ross. 2012. Assessment of natural resource conditions in and adjacent to Biscayne National Park. Natural Resource Report NPS/BISC/NRR—2012/598. National Park Service, Fort Collins, Colorado.
Contributing Institutions
Hosted By
Florida International University
Rights
No known restrictions.
< Go Back