Title
Photographs depicting Cape Sable, 1928-1929.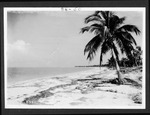 Item Details
Creator
Matlack, Claude Carson, 1878-1944.
Descriptive Information
From Photographs : series 50.; Beginning in the James A. Waddell of Key West planted coconut palms on 1,120 acres at Middle Cape. (A few more also grew on East Cape.) Mostly untended, the Waddell Grove dominated the landscape until the 1935 hurricane destroyed the palms. These photographs are probably of the Middle Cape.
Physical Descriptions
Medium
17 photos. : black and white; 18 x 13 cm.
Contributing Institutions
Hosted By
Florida International University
Rights
No known restrictions.
< Go Back