Title
Water levels and alligator nesting in the Everglades James A. Kushlan and Marilyn S. Kushlan.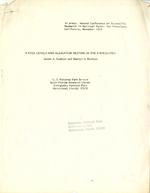 Item Details
Creator
Kushlan, James A. (James Anthony); Kushlan, Marilyn S.; South Florida Research Center
Descriptive Information
Includes bibliographical references. Photocopy. [S.l. : s.n., n.d.] "In press. Second Conference on Scientific Research in National Parks. San Francisco, California, November 1979."
Contributing Institutions
Hosted By
Florida International University
Rights
No known restrictions.
< Go Back