Title
Photographs depicting the Pennsuco sugar plantation, 1921-1922.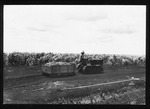 Item Details
Creator
Matlack, Claude Carson, 1878-1944.
Descriptive Information
From Photographs : series 31.; Pennsuco (Pennsylvania Sugar Company) established a sugar plantation and mill in Broward County, 1920-1925. Taxes, soil deficiences, and flooding in 1925 ended the project.
Physical Descriptions
Medium
9 photos. : black and white; 18 x 13 cm.
Contributing Institutions
Hosted By
Florida International University
Rights
No known restrictions.
< Go Back