Title
Hydrogeologic reconnaissance of the Floridan aquifer system, Upper East Coast Planning Area; Upper East Coast Planning Area.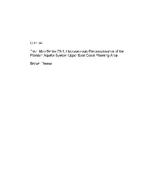 Item Details
Creator
Brown, Michael P.; Reece, Dennis.
Descriptive Information
State or province government publication; Text, figures and bibliographical references on sheets. Cover title.
Physical Descriptions
Medium
11 maps : col. ; 58 x 84 cm. folded in envelope 27 x 34 cm.
Contributing Institutions
Hosted By
Florida International University
Rights
No known restrictions.
< Go Back