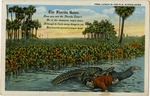 Item Details
Descriptive Information
1 post card; postally unused; caption: "Free lunch in the Everglades, Florida"; "The Florida Gator. Have you met the Florida Gator? He is the champion negro hater. Although he finds many things to eat. His favorite morsel is negro meat."
Contributing Institutions
Hosted By
Florida International University
Rights
No known restrictions.
< Go Back