Title
A botanical excursion to the Big Cypress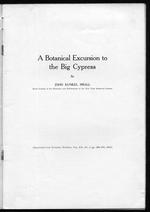 Item Details
Creator
Small, John Kunkel, 1869-1938; Reclaiming the Everglades ( contributor )
Descriptive Information
(Funding) Electronic format produced as part of Reclaiming the Everglades, a collaborative project of the University of Miami, Florida International University, and the Historical Museum of Southern Florida, funded by the Library of Congress/Ameritech National Digital Library Program.; Reprinted from Natural History, vol. XX, no. 4 (1920); (Statement of Responsibility) by John Kunkel Small.
Physical Descriptions
Medium
p. 488-500 : ill. ;
Contributing Institutions
Hosted By
Florida International University
Rights
No known restrictions.
< Go Back