Title
Report of the special study team on the Florida Everglades George W. Cornwell ... [et al.].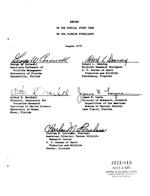 Item Details
Descriptive Information
"August 1970."; (Funding) Electronic reproduction. [Florida] : State University System of Florida, PALMM Project, 2005. (Everglades online collection) Mode of access: World Wide Web. System requirements: Internet connectivity; Web browser software; Adobe Acrobat Reader to view and print PDF files. Electronically reproduced by Florida International University from material held in the Green Library at Florida International University, Miami.
Contributing Institutions
Hosted By
Florida International University
Rights
No known restrictions.
< Go Back