Title
Dredges, dredging and canals in the Everglades, 1906?-1913?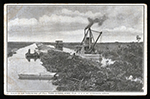 Item Details
Descriptive Information
(Funding) Electronic reproduction. Miami, Fla. : Reclaiming the Everglades, c2000. Mode of access: World Wide Web. System requirements: Internet connectivity; Web browser software. Digitized from postcards at the Historical Museum of Southern Florida, Miami, Florida.
Contributing Institutions
Hosted By
Florida International University
Rights
No known restrictions.
< Go Back